The quickest way to get to Koh Lanta is by fast speedboat transfer, combining a minivan transfer to Krabi pier and a speedboat ride to Koh Lanta, followed by transport to your Koh Lanta hotel.
Koh Lanta speedboat transfer
Krabi Airport to Koh Lanta Fast Speedboat Transfer Costs:
1950 Baht per person [approx €50 | £40 | $65]
Child 2- 12 years – Half Price: 975 Baht per child
Child under 2 – Free Of Charge
[Please note there must be a minimum of two people travelling - single guests are welcome but are required to pay the minimum price of 3900 Baht]
The Koh Lanta Speedboat Transfer price includes:
A 45 to 60 minute air conditioned minivan journey from Krabi Airport to the speedboat pier.
You then go on board the speedboat which then takes you on a stunning boat ride across the water along the coastline of Koh Lanta.
The journey takes around 15 minutes depending on weather and conditions.
You arrive in Saladan on Koh Lanta, where you are then transferred to your hotel by car. Koh Lanta is a long Island and depending on where you stay will depend on your journey time, it can range from a 10 minute drive to a 1 hour drive.
You get an automatic discount of 150 Baht per person if you book a return trip.
NO EXPRESS TRANSFER FROM 1 MAY TO 31 OCTOBER 2013
Important: Please note the Express Transfer does not run from 1 May to 31 October for safety reasons. You can book a Krabi Airport to Koh Lanta Private Minivan Transfer instead which is available all year round.
Book Your Fast SpeedBoat Transfer
Questions? Please Let Us Know!
If you have any questions before or after making your booking,
you can email us using the contact form on the left
How To Pay For Your Koh Lanta Speedboat Transfer
The full price is payable in advance. You can pay through PayPal using any major credit card by filling in your details and clicking the Pay Now button above. You do NOT need to be a member of PayPal to make the booking. We will then send you a confirmation of your Fast Speedboat Transfer to print out and bring you. PayPal will also send you a receipt for your payment.
Alternatively, if you have any questions, you can email us using the Fast Speedboat Transfer Enquiry Form below and once you are ready to book, we can email you a PayPal Invoice to pay for your transfer.
How Much Faster Is The Express Transfer Than The Private Minivan Transfer?
The Express Transfer takes 1 to 1.5 hours door to door from Krabi Airport to your Koh Lanta hotel. The private minivan transfer usually takes around 2 to 2.5 hours door to door, depending on how quickly the two car ferries for the crossing to Koh Lanta operate. The Express Transfer saves time by making the crossing by speedboat, so bypassing the wait for the car ferries.
When Is The Latest I Can Arrive At Krabi Airport?
Your flight must arrive at Krabi Airport by 1815 to use the Express Transfer. If your flight arrives after 1815, you can still transfer to Koh Lanta with the Private Minivan Transfer which operates until 2100.
What's The Earliest I Can Leave From Koh Lanta To Return To Krabi Airport?
The Express Transfer is designed to connect guests to the first flights departing from Krabi Airport each day. The Express Transfer will depart Koh Lanta at 0630, arriving at Krabi Airport at 0800. The first flight departure is at 0910 with Air Asia, leaving you plenty of time to check-in.
Can You Recommend A Hotel Or Villa On Koh Lanta?
Koh Lanta enjoys a wide variety of accommodation – we have recommendations for the best Koh Lanta family hotels, best Koh Lanta luxury hotels, Koh Lanta beach bungalows and also a comprehensive range of Koh Lanta Villas to rent. Agoda also has a wide selection of Koh Lanta Hotels to book online with Lowest Prices Guaranteed.
Can I Get A Speedboat to Koh Lanta from other places besides Krabi Airport?
We also offer speedboat transfers from Krabi Town to Koh Lanta, Ao Nang to Koh Lanta and Phuket Town and Beaches to Koh Lanta or Phuket Airport to Koh Lanta. Please follow the links for more info.
Can I Get A Private Speedboat Transfer?
Please note you will be sharing the speedboat and minivan with other guests who have also booked the speedboat transfer. If you would like a private speedboat transfer for you and your travelling companions only, please let us know on the form below and we can advise you of private transfer prices.
Please note that the private boat transfer only operates in high season from November to April and is dependent on the weather. The usual car ferry option would have to be substituted if the sea was too rough for the speedboat.
Just want to ask a question? Let us know how we can help!
Please use the enquiry form below to give us a little bit of info about yourself so we can answer your question quickly and accurately. Thanks!
Fast SpeedBoat Transfer Enquiry
Koh Lanta speedboat transfer map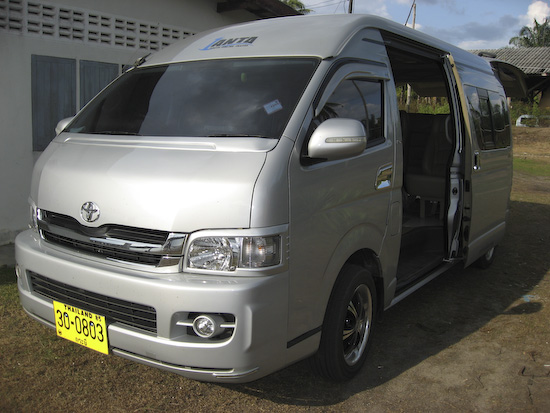 The air-conditioned minivan that will take you from Krabi Airport to the speedboat pier
Inside the luxury minivan
Inside the speed boat used for express transfers
The car used to transfer you from the speedboat to your Koh Lanta hotel
More Koh Lanta Beaches:
Enter your holiday dates below and see which Koh Lanta hotels are available for you:
BOOK KOH LANTA HOTELS
Enter Your Holiday Dates To See All Available Koh Lanta Hotels
Guaranteed Lowest Price
Instant Room Confirmation
Honest Customer Hotel Reviews
See Our Other Pages About Hotels On Koh Lanta
:: Book Koh Lanta Hotels online with Agoda. Best Price Guarantee!