Getting to Koh Lanta in Low Season – May 1 to October 31
The Express Transfer does not run during low season. You can still book a Private Minivan Transfer from Krabi Airport to Koh Lanta during low season.
You can also travel by ferry although be aware there may be rough seas and boats cancelled during low season. Use the form below to find ferry tickets during low season.
How To Get To Koh Lanta In Brief
Flying To Koh Lanta
Krabi Airport is the nearest airport to Koh Lanta. There are numerous daily flights from Bangkok to Krabi Airport. Compare Bangkok to Krabi flight times and prices on Skyscanner.
From Krabi Airport you can get a fast speedboat transfer or a private minivan transfer direct to your hotel on Koh Lanta.
Important Note: Bangkok Has Two Airports
THAI Airways and Bangkok Airways operate flights from Suvarnabhumi Airport (airport code: BKK) to Krabi (airport code: KBV).
Air Asia, Nok Air and Lion Air operate flights from Don Mueang Airport (airport code: DMK) to Krabi (airport code: KBV).
If you are arriving in Bangkok on an international flight before changing planes to fly from Bangkok to Krabi, make sure you know at which airport you will arrive. Transferring between airports can take up to 3 hours due to Bangkok's bad traffic and so is not recommended.
Flying from Singapore, Kuala Lumpur, Penang and Hong Kong to Krabi
You can fly direct from Singapore to Krabi with Tiger Air.
You can fly direct from Kuala Lumpur to Krabi with AirAsia
You can fly direct from Penang to Krabi with Firefly
You can fly direct from Hong Kong to Krabi with Hong Kong Airlines.
Again, check Skyscanner for the cheapest prices and flight times.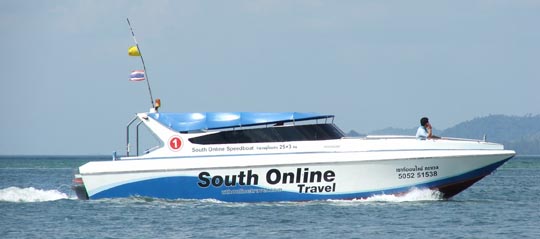 Koh Lanta speedboat transfer
Fast Speedboat Transfer to Koh Lanta
The fastest way to get to Koh Lanta is with a fast speedboat transfer. The transfer involves a 45 minute car journey and then a scenic 15 minute speedboat ride along Lanta's beautiful coastline, followed by a transfer to your Koh Lanta hotel by minivan. Total travel time is 75 minutes or so. See for more information.
We offer speedboat transfers from
Please follow the links for more info and to book your speedboat transfer online
Minivan used to transfer you from Krabi Airport to the speedboat pier
Private Minivan Transfer To Koh Lanta
You can book a private minivan taxi transfer from Krabi Airport to Koh Lanta direct through AmazingLanta.com. Visit our Krabi Airport to Koh Lanta Transfer page for more information and to make your booking.
We offer private minivan transfers to and from the following destinations:
Public Minivan Taxi to Koh Lanta
The cheaper option is to get a minivan taxi at Krabi airport, which seats up to 10 people and departs from the airport when the taxi is full. Backpacks or suitcases are stored on top of the van and conditions can be very cramped.
Minivan taxi cost: 300 Baht per person.
To catch a minivan taxi, we strongly recommend you get an early flight from Bangkok to Krabi as the last departure for minivan taxis from Krabi Airport is around 1pm.
The journey time from Krabi Airport to Ban Saladan is between 2 to 3 hours. The time varies as there are car ferry crossings between the mainland and the islands. We recommend you bring water and snacks for the journey.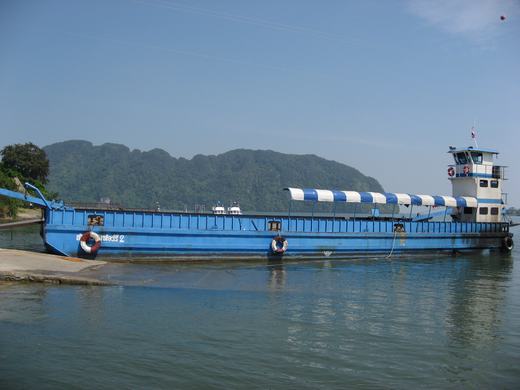 Koh Lanta car ferry
Ferries To Koh Lanta
Follow the links above for times and pricing for ferries to Koh Lanta, all of which can be booked online.
How To Get To Koh Lanta From Other Places In Thailand
If you are travelling around Thailand, here's some detailed info on how to get from other popular areas of Thailand to Koh Lanta
How To Get To Koh Lanta From Outside Thailand
To help you plan your journey to Koh Lanta from outside Thailand, here are some tips on the best flight routes to use from popular international airports. If you're wondering, Where is Koh Lanta?, follow the link for detailed maps.
Check Koh Lanta Hotel Availability
It's important to check Koh Lanta hotel availability before booking your flights, especially at Christmas and New Year – you can get instant confirmation of available Koh Lanta hotels for your travel dates on our Koh Lanta Hotels page.