Enjoy a hassle-free door-to-door transfer from any beach in Phuket direct to your hotel on Koh Lanta with the Phuket Beaches to Koh Lanta express transfer
Phuket Airport to Koh Lanta speedboat transfer
Phuket Beaches to Koh Lanta Express Transfer Costs:
3,750 Baht per person [approx €95 | 78£ | $USD 125]
Child 2- 12 years Half Price – 1875 Baht per person
Child under 2 Free of Charge
[Please note there must be a minimum of two people travelling - single guests are welcome but are required to pay the minimum price of 7500 Baht]
Our Phuket Beaches to Koh Lanta Express Transfer is the most comfortable way to get to Koh Lanta and everything is taken care of for you – relax and enjoy the scenic minivan drive and exciting speedboat ride which will bring you door-to-door from Phuket Airport to your Koh Lanta hotel.
The Phuket Beaches to Koh Lanta Express Transfer includes:
Being met by our driver at your Phuket hotel
You can sit back and relax for the 3 hour air conditioned minivan journey from Phuket to the speedboat pier in Krabi
You then transfer to the speedboat which takes you on a stunning boat ride across the water to Koh Lanta.
The speedboat journey takes around 15 minutes depending on weather and conditions.
You arrive directly in Saladan village on Koh Lanta, where you are then transferred to your Koh Lanta hotel by car.
Important: This service is NOT a direct speedboat transfer across the ocean from Phuket to Koh Lanta.
Many guests find the 90 minute direct speedboat ride from Phuket to Koh Lanta uncomfortable, as the sea can have big waves on the open ocean making the journey very bumpy and possibly causing seasickness.
Therefore we offer the Express Transfer which combines the comfort of an air-con minivan transfer from Phuket to Krabi pier with the convenience of a speedboat to get onto Koh Lanta quicker by bypassing the two car ferries that connect Koh Lanta to the mainland.
If you definitely want a direct speedboat transfer from Phuket to Koh Lanta, you can book the Phuket to Koh Lanta private speedboat transfer which crosses the ocean direct and takes you straight to your designated Koh Lanta beach.
To book the Phuket Beaches to Koh Lanta Express Transfer, simply fill in the form below.
Book Your Phuket Express Transfer
Questions? Please Let Us Know!
If you have any questions before or after making your booking,
you can email us using the contact form on the left
How To Pay For Your Phuket Beaches To Koh Lanta Transfer
The full price is payable in advance. You can pay through PayPal using any major credit card by filling in your details and clicking the Pay Now button above. You do NOT need to be a member of PayPal to make the booking. We will then send you a confirmation of your Express Transfer to print out and bring you. PayPal will also send you a receipt for your payment.
Alternatively, if you have any questions, you can email us using the Phuket Beaches To Koh Lanta Enquiry Form below and once you are ready to book, we can email you a PayPal Invoice to pay for your transfer.
How Much Faster Is The Phuket Beaches to Koh Lanta Express Transfer Than The Private Minivan Transfer?
The Express Transfer takes 3.5 to 4 hours door to door from Phuket's beaches to your Koh Lanta hotel. The private minivan transfer usually takes around 4.5 to 5 hours door to door, depending on how quickly the two car ferries for the crossing to Koh Lanta operate. The Express Transfer saves time by making the crossing by speedboat, so bypassing the wait for the car ferries.
What Is The Latest Time I Can Leave From Phuket For The Transfer To Koh Lanta?
You can leave Phuket by 1500 (3pm) to get the Express Transfer. If you need to leave Phuket later than 1500, please book our Phuket Airport – Koh Lanta Private Minivan Transfer.
What's The Earliest I Can Leave From Koh Lanta To Return To Phuket?
The Express Transfer will depart Koh Lanta at 0630, arriving at Phuket Airport at 1000 and on to Phuket's beaches by 1100.
By submitting the form you agree to AmazingLanta.com's Cancellation Policy:
Cancellation Policy:
Transfers can be cancelled up to 48 hours before they are due to begin for a full refund. Your funds will be transferred back to you via PayPal (less any administration fees imposed by PayPal). Transfers cancelled less than 48 hours before or no-shows at the airport will forfeit 100 per cent of the transfer charge i.e. no refund.
Phuket to Koh Lanta Enquiry Form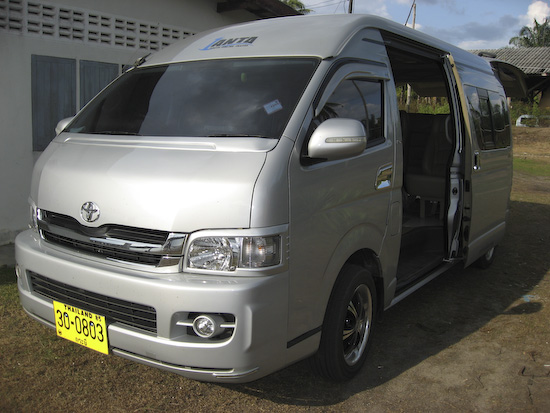 The air-conditioned minivan that will take you from Phuket Airport to the speedboat pier
Inside the luxury minivan
Inside the speed boat used for express transfers
The car used to transfer you from speedboat to your Koh Lanta hotel
Should you require a hotel near to Phuket Airport at the beginning or end of your journey we recommend the following:
:: Book Koh Lanta Hotels online with Agoda. Best Price Guarantee!