Book your minivan and fast speedboat transfer from your resort in Krabi Town to Koh Lanta online and avoid having to wait in the queues for the car ferries.
The usual way to get to Koh Lanta is to take a private taxi or minibus from Krabi Town to Koh Lanta. The journey usually takes 3 to 4 hours although this is dependent on 2 car ferries. [See our page How To Get To Koh Lanta for more info]
A quicker and more exciting way is by the fast express transfer from Krabi Town to Koh Lanta which you can book online.

The transfer includes:
A 1 hour air conditioned minivan journey from Krabi Town to the first car ferry port.
You then go on board the speedboat which then takes you on a stunning boat ride across the water along the coastline of Koh Lanta.
The journey takes around 15 minutes depending on weather and conditions.
You arrive directly in Saladan on Koh Lanta, where you are then transferred to your hotel by car.
That means the total journey time should be 2 hours and a lot more fun!
Krabi Town to Koh Lanta Fast Speedboat Transfer Costs:
2,150 Baht per person.
Koh Lanta Resort located in Saladan, Khlong Dao, Phra Ae or Khlong Khong
2,250 Baht per person.
Koh Lanta Resort located in Khlong Toab, Khlong Nin, Kantiang Bay or the Old Town
Child 2- 12 years half price
Child under 2 Free of Charge.
That includes the taxi drive from your resort in Krabi Town to the pier, the speedboat ride, and the minivan transfer from Saladan to your hotel on arrival on Koh Lanta – or the other way round if you wish to leave Lanta to go to Krabi Town.
The full price is payable in advance. We will send you a PayPal Deposit Invoice which you can pay with any major credit card.
* Please note there must be a minimum of two people travelling – single guests are welcome but are required to pay double.
To make your express transfer booking, please send us an enquiry using the form below. Please tell us
how many people are in your group
what date you would like your transfer
which hotel you would like picking up at in Krabi Town
which hotel you will be staying at on Koh Lanta
If you don't know any of these details right now, don't worry! Just skip over those items and send us your message
(If you need help choosing a hotel, please see our Koh Lanta Hotels page for advice and recommendations).
Please note you may be sharing the speedboat and minivan with other guests who have also booked the same transfer. If you would like a private speedboat transfer for you and your travelling companions only, please let us know on the form below and we can advise you of private transfer prices.
Make Your Fast SpeedBoat Transfer Booking Online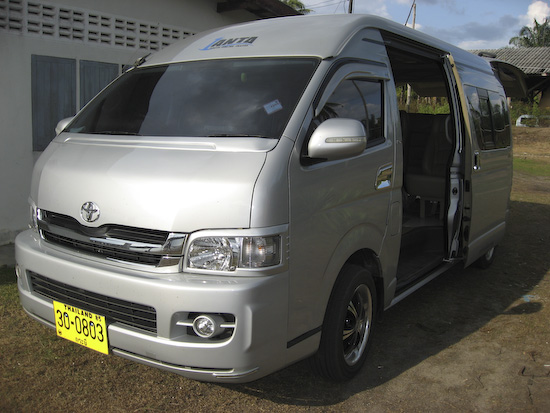 Koh Lanta Taxi


Photos of the luxury minivan that will take you from Krabi Town to the private pier

Inside the luxury minivan

Inside the speed boat used for express transfers.

Photo of the car used for transfers on Koh Lanta.
:: Book Koh Lanta Hotels online with Agoda. Best Price Guarantee!